Sign up for our Newsletter
Stay up-to-date on everything happening at Havana Cabana, Key West's newest hotel.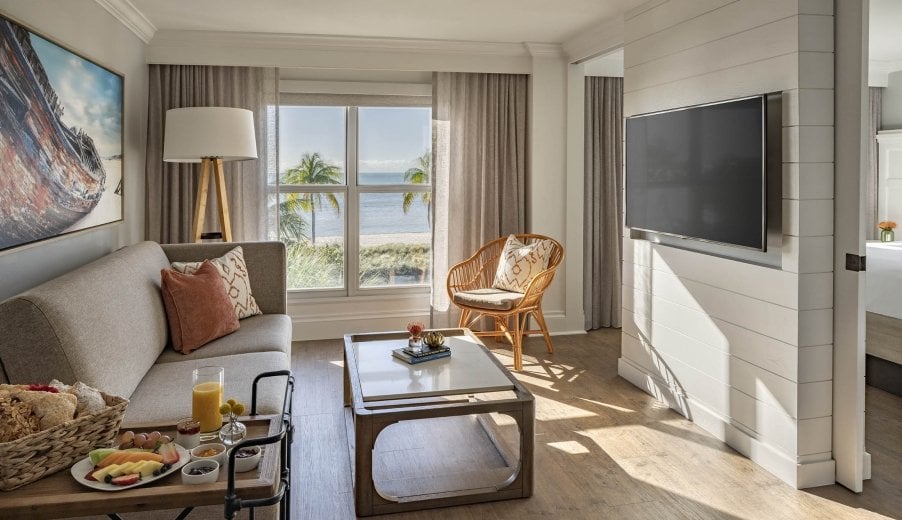 Barbary Beach House Key West
2001 South Roosevelt Boulevard, Key West, Florida 33040 USA
Somewhere between the southern edge of the Continental U.S. and ordinary, that's where you'll find our stunning Key West Resort. On an island whose story unfolds like the greatest adventure ever written.
Learn More
Key West Golf Club
6450 College Rd, Key West, FL 33040, United States
Spanning 200 acres and designed by famed architect Rees Jones, this 18-hole golf course provides challenging and rewarding play for golfers of every skill and experience level. Tee off among breathtaking views of tropical mangroves here at the "Gateway to the Caribbean".
Smathers Beach
2601 S Roosevelt Blvd, Key West, FL 33040, United States
Framed by coconut trees and located just a short bike ride away from Havana Cabana, Smathers Beach embodies the tropical splendor of Key West. Enjoy a picnic with your family and take a leisurely swim here on Key West's largest public beach.
Southernmost Point
Whitehead St &, South St, Key West, FL 33040, United States
The legendary Southernmost Point buoy is one of the most visited landmarks in Key West. Be sure to have your photograph taken next to it!
Ernest Hemingway House
907 Whitehead St, Key West, FL 33040, United States
Arguably one of Key West's most renowned residents, Ernest Hemingway resided at 907 Whitehead Street throughout most of the 1930s. Today, his house is a U.S. National Historic Landmark, and is listed on the U.S. Register of Historic Places; take a guided tour and catch a glimpse of the dozens of cats that live on the property.
Rodriguez Cigars
113 Fitzpatrick St, Key West, FL 33040, United States
​In 1947, the Rodriguez Family began the masterful art of cultivating tobacco on their private plantation in the town of Siguaney. The tobacco plantation was called La Finca de Carmencita. Located in the Las Villas province of Cuba, La Finca de Carmencita specialized in growing, aging, and curing filler tobacco leaves for numerous manufacturers throughout Cuba.
Key West Butterfly and Nature Conservatory
1316 Duval St, Key West, FL 33040, United States
Witness the beauty of over 50 different species of butterflies at this glass-enclosed observatory, which also features several species of birds and an on-site learning center.
​Mallory Square
400 Wall St, Key West, FL 33040, United States
There's no better place to catch the sunset in Key West than at this waterfront plaza; indeed, Mallory Square's "Sunset Celebration" is one of the city's most beloved tourist attractions. The square also includes a sculpture garden, live performers and plenty of great shopping and dining.
KINO Sandals
107 Fitzpatrick St, Key West, FL 33040, United States
​Kino sandals are made on location in Key West, Florida. Being only 90 miles from Cuba keeps them close to their ancestors homeland where they have been worn for decades. Kino's Plaza is located in the heart of old town on the corner of Green Street and Fitzpatrick Street, where traditional methods are used to make these unique sandals to this day! Stop by and check us out and see how our Kino's sandals are made and why they are so popular. We bet you won't leave without a pair!
Papa's Pilar Rum Distillery
201 Simonton St, Key West, FL 33040, United States
​Inspired by Ernest Hemingway's spirit of adventure, Papa's Pilar is crafted for those with a restless spirit who seek exploits of epic proportions, much like Papa himself. Papa was a man of many things – an author, storyteller, sportsman, adventurer – but one thing he was not was a spectator. Papa's Pilar is an homage to Hemingway's adventures, and an inspiration for yours.
Santiago's Bodega
7305, 207 Petronia St #101, Key West, FL 33040, United States
La Trattoria Venezia
524 Duval St, Key West, FL 33040, United States
​Prime Steakhouse
951 Caroline St, Key West, FL 33040, United States
7 Fish
921 Truman Ave, Key West, FL 33040, United States
Cuban Coffee Queen
284 Margaret St, Key West, FL 33040, United States
El Meson De Pepe
Mallory Square, 410 Wall St, Key West, FL 33040, United States
Origami Sushi Bar
1075 Duval St STE C3, Key West, FL 33040, United States
El Siboney
900 Catherine St, Key West, FL 33040, United States